We tell ourselves that entrepreneurship is the fairest game in business. The smartest and hardest working entrepreneur wins. Our society tolerates and justifies disproportional financial rewards to household heroes: Elon Musk, Bill Gates, Jeff Bezos.
It's a narrative that even governments and universities can't resist. When big companies get tough with lay-offs and stop hiring graduates, professors tell young people to start their own businesses. Governments tell the unemployed to work on gigs. Even economic development agencies are obsessed with turning their countries into "startup nations."
This week, Asia's ride-hailing giant, Grab, is set to complete a $40 billion SPAC merger with US-based Altimeter. It's a perfect window into just how delusional such understandings are. The myths of entrepreneurship collapse under the examination of Grab's deal.
Myth 1: Everyone has a fair chance to build a startup.
For readers living outside Asia: Grab is a ride-hailing, food-delivery, and digital-wallet company. It operates in eight countries across Southeast Asia. CEO Anthony Tan initially launched a ride-sharing service with 40 drivers in Kuala Lumpur, Malaysia, in 2012. Grab first made international headlines in March 2018. That was when the mighty Uber bowed out by selling its operations, including those in Cambodia, Indonesia, Malaysia, Myanmar, the Philippines, Singapore, Thailand, and Vietnam, to Grab.
Anthony is no stranger to the rough and tumble of business play. He's a rich kid from a family that owns a Malaysian conglomerate and the youngest of three brothers. His father runs a local Nissan manufacturer, and the family business is one of Malaysia's largest auto distributors as well.
Just like the kids of many well-off Asian families, Anthony was sent to Harvard Business School to get educated. To his credit, he was unlike many rich kids, who played not to lose. He enjoyed trying new things. He was curious about life outside the safety and comfort circles of crazy rich Asians. He said his family had a tough time understanding what he was trying to do, "and I don't blame them."
Anthony was able to explore his dream at a leisurely pace. He was surrounded by the best minds in the world at Harvard. And much like Bill Gates, Mark Zuckerberg, and Elon Musk, he grew up not having to worry about whether there would be food on the table on the next day.
Let's not forget that material comfort and world-class education is a head start.
Myth 2: Smart entrepreneurs have original ideas.
Some have said that Anthony is a street fighter. Others have commented on his "workhorse" nature. His cofounder at Grab, Hooi Ling Tan, who was also a Malaysian in the MBA class of 2011, noticed that he lacked the typical demeanor of a tycoon's son. "He's actually way more hardworking than I was," said Hooi Ling. "He's super humble and just a nice person to be with."
But Anthony wasn't just hardworking and nice. He also cultivated connections. He met Steve Chen, the co-founder of YouTube, and Eric Ries, the "lean startup" guru, while at Harvard. The entrepreneurship class he took would have analyzed the business models of Google, Facebook, and Amazon. And it's likely that he'd been taking Uber downtown when the company was taking off in the US but still not strong in Asia. It would not have taken Anthony too much imagination to see the potential of porting a similar idea over to Malaysia and Singapore.
He would have needed powerful connections, access to the venture capital world that had funded so many Silicon Valley startups. At Harvard Business School, he had met Andy Mills–the former CEO of Thomson Financial–through a Christian fellowship. Mills had since become his mentor: "As a big brother in my work, in my faith in God," Anthony said. He wisely invited Mills to the board of Grab.
Author Guy Kawasaki said a good idea was about 10 percent implementation and hard work and 90 percent luck. You've got to have luck in life to be situated in the right place and make the right connection.
Myth 3: Plenty of good ideas are competing for investors' money.
Grab is going IPO (initial public offering) through a SPAC merger. A SPAC, or a special purpose acquisition company, is essentially a shell company. Its only purpose is to raise capital through an (IPO), promising people that, at some stage, it will buy a startup.
You may think this is a twisted arrangement. It is. It allows a startup to effectively bypass all the compliance hurdles of a traditional IPO: no public scrutiny of financial disclosure, no formal filing of a detailed prospectus in the form of an S-1. In its deal, Grab will receive a maximum of about $4.5 billion in cash.
Why does Anthony need all this money? Grab is hardly making any profit. It needs to diversify to explore other businesses. From ride-hailing, it has already expanded into online food delivery. But it is experiencing similar woes to Uber and Door Dash: both businesses aren't showing any signs of profitability, but financial services could. It's an industry with fat margins that's swollen with traditional banks. Anthony doesn't need to look any further than Alibaba and Tencent to understand that Grab must grow into a super app. To facilitate that, he needs deep pockets.
Meanwhile SPAC has gone through the roof. Look at this graph: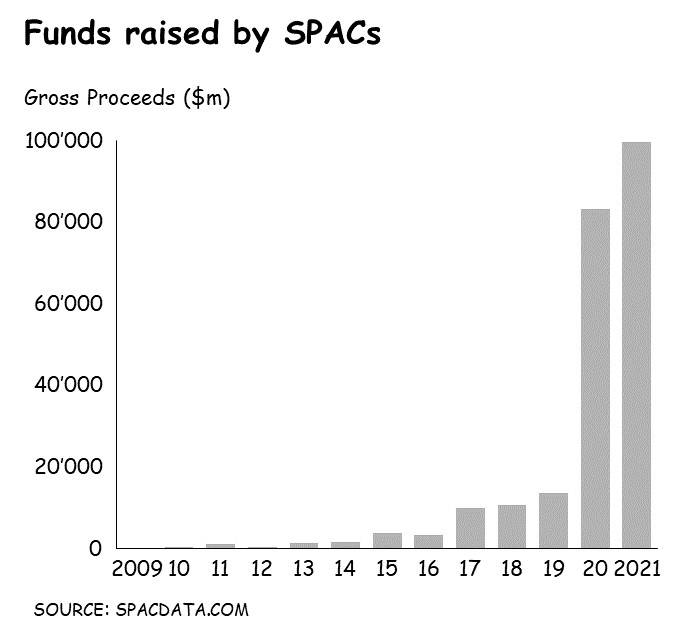 There's too much money chasing too few good ideas. It's the world favoring entrepreneurs, not capitalists.
I don't want to belittle the achievements of Grab or its founder. In fact, I almost worship Anthony for his audacity and willingness to sacrifice in pursuit of his big vision. He's too different from many of the younger members of family businesses that I've come across.
But it's also critical for policy makers, government, educators, and parents to know the true factors of success. Rags-to-riches are stories we remember precisely because they are rare. And increasingly in our inequitable world, it's becoming implausible. What's more plausible is rich-to-richer. Don't get me wrong. It's still hard work. But let's not celebrate for the wrong reason.
Stay healthy,

This article was first published in Forbes and co-authored with Angelo Boutalikakis, a Research Associate at IMD's Center For Future Readiness.