The bubble keeps getting bigger. Every initial public offering (IPO) since the pandemic is becoming larger than the last. Kuaishou, a Chinese social video app similar to Tiktok, went public last Friday. It raised some US$5 billion in the process, making it the world's biggest internet IPO since Uber. On its first day of trading, Kuaishou stock nearly tripled. That gave the company a market capitalization of about US$160 billion. That's bigger than IBM and Citigroup. How did that happen?
The market enthusiasm for Beijing-based Kuaishou, or "quick hands" in Chinese, is understandable. It rode on the rising tide of China tech stocks. Yes, there's been talk about cracking down on Alibaba and Tencent. But Kuaishou is still far smaller and less likely to attract attention than the tech giants.
Then there's the positioning of the app. Founded in 2011, Kuaishou started out as a short-video app targeting teenagers in China's smaller cities. Today, it bills itself as a platform for grassroots users outside of cosmopolitan centers. You see more people dancing in the mountains, and singing in vegetable plots. It differs considerably from its bigger rival, Bytedance, which owns TikTok. There, you more often see  hip urban users from Beijing and Shanghai. 
This market differentiation is noteworthy. Inequality has soared in China for decades. There's been massive discontent against Jack Ma and the entire billionaire class. The Economist observes that even Marxist rhetoric is gaining traction on the internet, especially among the young, over-working class. 
I joined Bloomberg TV last week to unpack the story last week. You can watch the segment here.
One enormously popular feature of Kuaishou is virtual gift-giving. You can tip your favorite live performer a virtual flower for 5 yuan (80 cents). Or, if you feel generous, you can give away a virtual space rocket for 500 yuan. 
Such gift-giving is a big deal. Almost ten years ago, Tencent launched WeChat Pay. At the time, Alibaba's Alipay was the dominant platform for mobile payment. But WeChat decided to gamify payment for people during the Chinese new year. Users could give their friends virtual red packets with a random amount drawn by the app. The feature was so popular that it broke Alipay's stranglehold over mobile payment. Coincidentally, Kuaishou is backed by Tencent, the owner of WeChat too. History has repeated itself.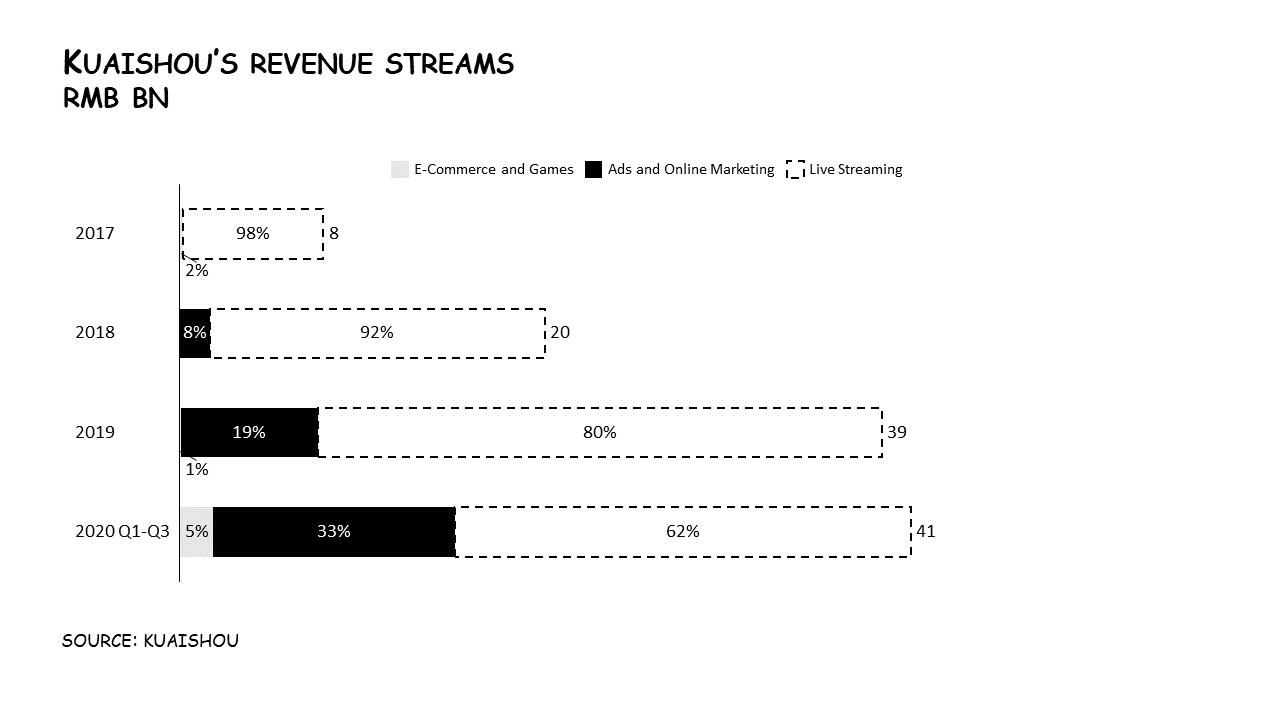 Source: The Financial Times, www.tinyurl.com/1l3huqj1
But the popularity of this IPO also reflects the pent-up demand for investment. As I wrote here, given that Ant's IPO was halted by the government, the money already earmarked for it has to go somewhere now. 
So Kuaishou came at a very fortunate time. Its revenue for the first nine months of 2020 stood at about $6.3 billion. That implies the company is trading at about 16 times last year's revenue. Applying that same multiple to ByteDance—which is still privately held—would put its value at $592 billion. That, of course, would be ridiculous. At that level, even Walmart and Visa would be smaller than a video-streaming firm. 
But then, with all the fiscal stimulus coming from every major economy, the market is awash with liquidity. As long as the music is playing, you've got to get up and dance.
Stay healthy,

P.S. At this point, S&P 500 has fully recovered from the pandemic. But the stock market also disproportionally favors companies that seem to be "fit for the future." Think Tesla, Amazon, or the recent IPOs like Airbnb and Doordash. What's your viewpoint? Are we heading for a bubble in general? Or the eventual correction will hit hard, mostly in the tech sector?
This article has been co-authored with Angelo Boutalikakis, a researcher at The Center of Future Readiness at IMD.