When people say the COVID-19 crisis is devastating the economy, it doesn't apply in the startup scene. The investors' money didn't dry up. High-flying IPOs are followed by even higher-flying IPOs: DoorDash, Palantir, Airbnb, and Roblox. There are more startups forming during the pandemic than ever before, and their private valuation has been at an all-time high. Most of the evidence about these trends is illustrated by two charts compiled by The Information, which my team has redrawn below:
Startup formation is clearly on the rise.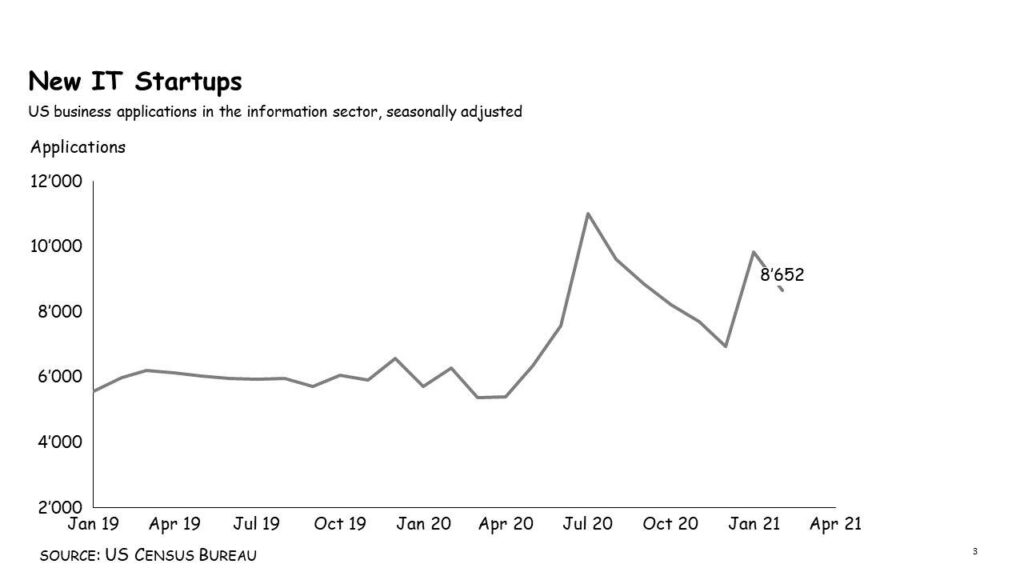 And big bumps are in their valuations.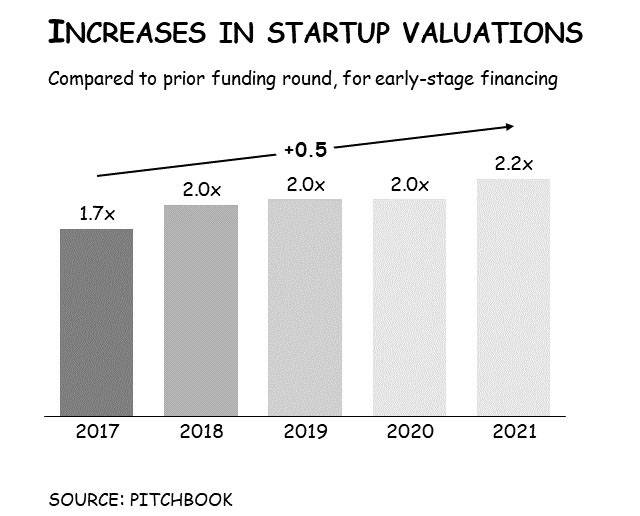 Onto the Gold Rush
It should be no surprise that another online food delivery startup, Deliveroo, is rushing to become an IPO this year. Deliveroo said it would be listed on the London Stock Exchange soon. It's expected to reach a potential valuation of US$7 billion, a huge bump from the pre–COVID-19 estimate of US$2 billion to US$5 billion.
There's no doubt that online food delivery is growing. When a family's stuck at home, they order food online. According to Morgan Stanley, the U.S. digital food delivery market alone will grow to $467 billion in the next five years. What's troubling about the entire sector is the lack of profitability or the path toward it, even during the best time.
As I wrote before, Deliveroo just posted a loss of US$309 million for 2020 despite a 54 percent revenue growth. Its results for 2019 were worse, with US$1 billion in revenues while losing US$440 million. DoorDash and Grubhub similarly struggle to achieve profitability.
And that's not all. These online platforms are robbing the very viability of their own ecosystem. It's hard to see how the current setup could last without a major pivot.
Death by a Thousand Cuts
Delivery platforms such as Deliveroo or Uber Eats typically charge a 15–30 percent commission on each order, but restaurants are subsisting on razor-thin margins (often less than 50 percent).
Even before COVID-19, 80 percent of New York restaurants close in the first five years. It's a tough industry driven by the passion of heroic entrepreneurs rather than money.
The New York Times reported that two pizzerias that previously generated profits between $50,000 and $100,000 started to lose as much as $40,000 annually once their customers shifted to delivery. The LA Times showed how the owner of a Chicago pizza restaurant pocketed only $376.50 from Grubhub after more than $1,000 in delivery orders.
There are many reasons for this. The orders for each delivery are often cheaper. Most people don't order fancy cocktails or champagne together with takeout; they buy booze at stores. Since the customers don't see the servers, tips are less generous. Then there are the additional expenses for drivers and bikers.
There's no single cause for the bad economics. It's death by a thousand cuts.
Little Sustainable Advantage
Meanwhile, delivery platforms are seen as interchangeable. You can't tell the real difference when ordering from different platforms. The one differentiation is the number of restaurant listings. But then, most restaurants would sign up for multiple platforms anyway.
That leads to ruinous competition. These delivery platforms become big spenders on paid ads on Google and Facebook. They call it market investment, but they are merely buying temporary market shares. The irony, of course, is that all the money ends up with no one except for Google and Facebook—again.
What Lies Ahead
All these remind me about the bike-sharing craze in China a few years ago. What goes up must come down. Ofo, Mobike, and Bluegogo had mushroomed out of nowhere, but it was never clear how dockless bike sharing could ever be profitable. Still, the allure was so strong that Softbank, Tencent, and Alibaba kept pouring money into it—that is, until we saw hundreds of thousands of abandoned bikes piling up in the open space.
Such is externality, economists would call. Think of this as external pollution. Ofo and Mobike are chasing after high growth but choking off a city's already congested landscape. When your business model is polluting your own backyard, it's never a good sign.
Usually, if such a sector were to survive or be unleashed by the next wave of high growth, there are new heroes going in with a new business model. This is what Scott Galloway called "a zag" in his latest podcast. An example is Amazon. It knows how squeeze merchants all too well. It hoards data and then launches its own private labels that kill off smaller players. So who is the darling on e-commerce today? Shopify. It zags while Amazon zigs. Shopify helps merchants set up their own online stores. It gives data back to the merchants and helps them get rid of their dependency on Amazon. Brilliant.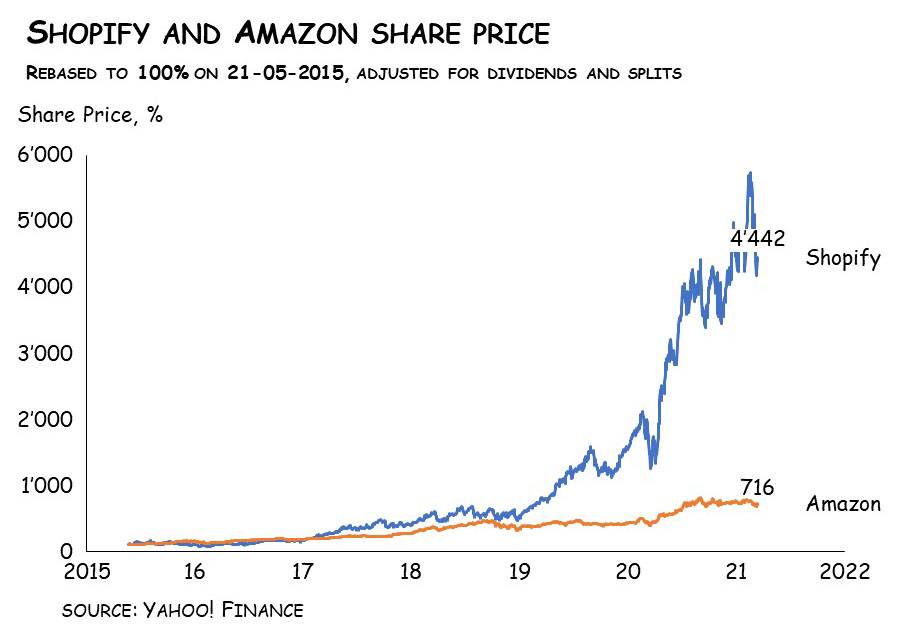 Amazon may be more financially powerful, but Shopify is growing much faster.
YouTube is similarly riding on the creator economy, but it grants little to content creators financially. So now you have Roblox. It zags by making easy-to-use tools for online game creators to monetize their own efforts. Substack is zagging in the publishing business. It's helping individual writers get paid for their labor via a subscription model. It doesn't sell readers data to advertisers to enrich the platform itself. Then you have NFT in full rage, promising to help musicians get a decent payday in the age of online music streaming.
So there you have it. Online food delivery, like many predatory platforms, is increasingly exploiting the very people they are supposed to work with. Until restaurant owners improve their livelihood, any IPO values of these platforms are pure hype.
Stay healthy,


P.S. Save the date. March 26, 11:00 a.m. (CET). I invite you to join us for a virtual meetup at IMD. My research team and I will unpack how organizations are becoming stronger despite the COVID-19 crisis. Don't wait. Sign up here: https://www.imd.org/event/leap-thriving-after-a-crisis/
An earlier version of this article was published by Channel News Asia in Singapore.