Big tech spends big. And Amazon spends the most. A fearless Jeff Bezos plows money into warehouses and data centers in the face of uncertainties. Last May, he warned an audience of investors to "take a seat," because "we're not thinking small." He told them that Amazon would invest all of its $4 billion operating profits to capture the entire rise of e-commerce because of COVID-19.
It's been a gambit well played. This past holiday season saw a 73% jump in e-commerce from the previous five-year average.
Amazon is likely to account for more than 8% of all U.S. retail in 2020. It will no longer be a "low single-digit percentage," an argument previously used to dodge antitrust probes in the U.S. and Europe. Of course, there's never been an antitrust case that defines a product market as insanely broad as all retail in America. It's as if United Airlines called itself tiny by stating its market share out of all transport, not just aviation. But even with this insane argument, Amazon can't hide its size any longer.
The more Amazon grows, the more it spends. The more it spends, the bigger the risk of failures. And that's by design. "We need big failures if we're going to move the needle—billion-dollar scale failures," Bezos wrote. "And if we're not, we're not swinging hard enough."
I know you are rolling your eyes. Another bit of Bezos's soaring rhetoric.
But Amazon is in fact the biggest spender on infrastructure investment, according to a recent report by The Information. It's not just bluff.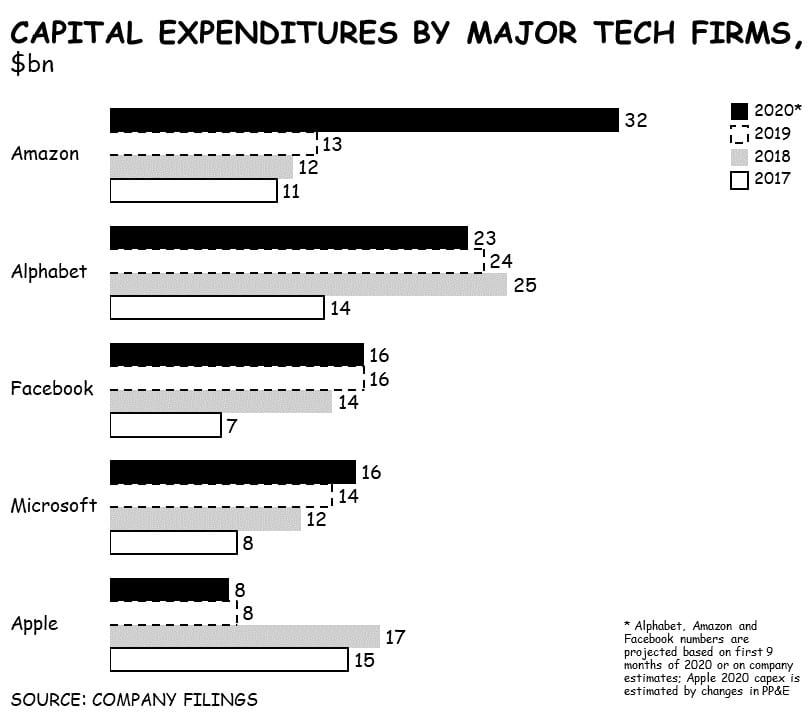 Capital expenditures—or capex—are the funds businesses spend on mostly physical assets, from the building and outfitting of offices to manufacturing equipment to the computers and software needed to operate their services. The most striking spending increase came from Amazon, which put it far ahead of Alphabet. The parent company of Google, Alphabet has been, until now, the champion of capital spending.
Amazon's high spending on backend operations like data centers, warehouses, sorting centers, and delivery stations doesn't shield the company from commercial failures. Behind the success of AWS, Kindle, Prime, and Alexa, there are more embarrassments than we can recall. Here's a small sample of the long list of failures.
1. Fire Phone (2014)
The phone had a series of cameras to simulate a 3D screen and could change its image as the user moved it. This might have been a neat party trick, but it could hardly be called a killer app. Amazon wrote off some $170 million in inventory and stopped selling it for good.
2. Destinations (2015)
Seeing how Airbnb was taking over travel, Amazon tried creating close-to-home vacations. The site featured getaways and hotels within a customer's driving distance. It's an interesting concept that didn't fly. In less than six months, Amazon shut down Destinations.
3. Restaurants (2015)
It wasn't blind to food delivery service either. Amazon delivered restaurant meals to Prime members for almost four years in more than 20 U.S. cities. Still, it couldn't bite off growth from Uber Eats, Grubhub, and DoorDash. So Amazon Restaurants got shuttered.
4. Daily Dish (2016)
But what about more specialized services? Like workplace lunch delivery? Amazon tried that too. Daily Dish let employees at specific companies order lunch specials for delivery to their offices. People received daily menus via text message and placed their orders on the Prime Now app. That didn't work; it was shut down.
5. Amazon Local (2011)
Remember Groupon and Living Social? Daily deals were big. So Amazon started its own program, Amazon Local, in June 2011, right in the middle of the Groupon peak. The project ended as quickly as the daily deal fad faded away.
6. Pop-up Stores (2018)
These pop-up shops typically occupied a few hundred square feet of space in malls, Kohls, and Whole Foods. They featured staff, dressed casually in black Amazon T-shirts, who encouraged passersby to try out voice-assistant speakers, tablets, and Kindle e-readers. Then, a year later, it shut down all 87 of its U.S. pop-up stores.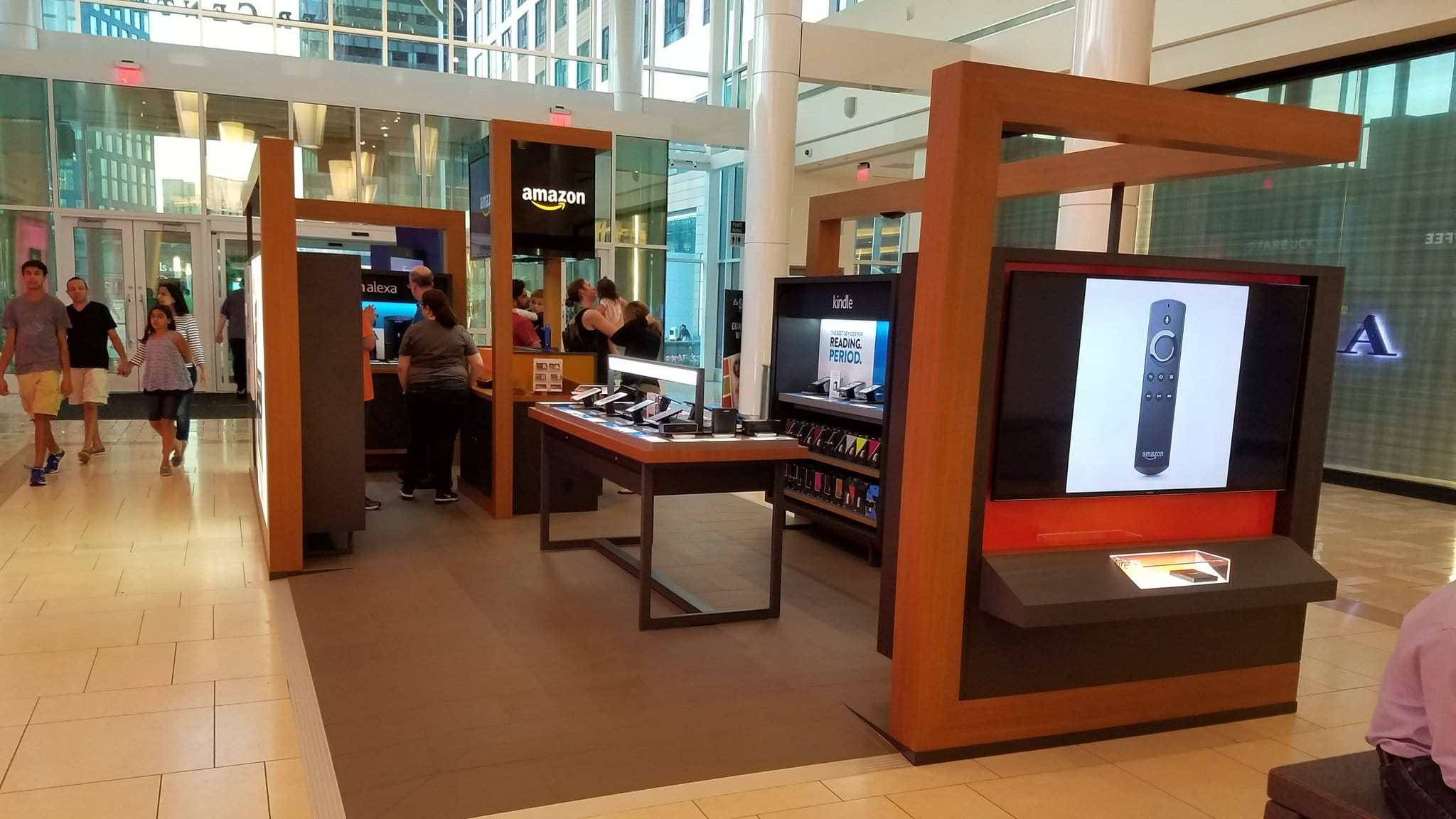 7. Wallet (2015)
The reason that Amazon doesn't have a consumer-facing wallet like Apple Pay or Google Wallet is not for lack of trying. But its dominance over e-commerce doesn't translate into a real advantage in digital payment services. After giving it a six-month shot, Amazon killed its mobile wallet, leaving the fight to Apple and Google.
I think you get the idea. Winning offerings rarely succeed from day one. The trick is to apply what you've learned and try again.
When Amazon's foray into Fire Phone came crashing down, Bezos publicly took personal responsibility. The team quickly learned that it was wrong to design a phone with its biggest selling point being making shopping on Amazon easier. Adding to consumer skepticism was the small number of third-party apps.
At Lab126, Amazon's hardware R&D, Bezos told employees not to feel bad. Managers instead applied the lessons learned to the launch of Amazon Echo. From the outset, the Echo team sped up the certification of third-party apps, or "skills." This made Alexa ubiquitous, not only found on the Echo Wi-Fi speakers but also inside BMW and Ford, Sonos and Bose, Philips lighting and GE appliances.
Every failure at Amazon is announced by a standard press release: We've learned a great deal from [this failed project X] and will look for ways to apply these lessons in the future as we continue to innovate on behalf of our customers. You don't hear about the massive overturn of executive teams. There is no exodus of managers en masse upon shutting down of a single project. There are safety measures to retain the precious knowledge gained from failed ventures.
And so, here are the assumptions under which Amazon operates:
1. Most innovation efforts will fail, but we need to capture the lessons learned systemically. That includes documenting how and why that failure happened and retaining key managers who took calculated risks but failed. Don't fire your best students after they've learned their lessons.
Does your company fire people over things that they can't control?
2. Don't promise investors your new innovation will work out. Financial projections on radical innovation rarely pan out. Show them instead the tractions that you've already achieved.
Does your company over-promise its innovation efforts to the financial market?
3. The eventual success of an idea requires many rounds of restarts. Be prepared to cut your losses quickly and restart the project afresh. Don't throw good money after bad.
Can people at your company shut down a project easily? If not, why not?
4. And just because you have tried something in the past, doesn't mean that it will never work. Failure can have many causes. The same concept can take off amazingly once it's found the right timing and the correct format.
Does your company persist in experimentation?
If your answers are "yes" to all four, congratulations! Stay on course doing what you've been doing. If your answers are less positive, try to create an environment for at least your own team so that your people and your team members can flourish.
The world is never perfect, but you always have some degree of control. If innovation is your passion, those are the four areas you can focus on influencing what matters the most.
Stay healthy,

P.S. What are your experiences and observations in corporate innovation? Share with us your thoughts on those four questions above.
This article is co-authored with Angelo Boutalikakis, a research associate at the LEAP Readiness Project.