Companies merge and split. They do that to pool resources, divest businesses that are no longer interesting, or simply increase efficiency. Microsoft, for example, bought up a lot of companies over the years.
Here are the five biggest deals Microsoft has ever made.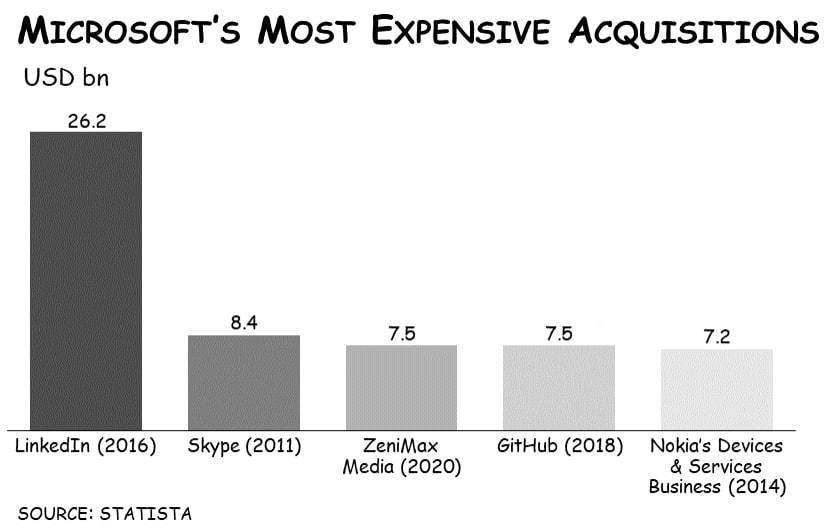 That doesn't mean LinkedIn has been the most expensive deal. When you acquire a company, you are, in effect, buying that company's revenue stream. Microsoft paid 26 billion for LinkedIn in 2016, when LinkedIn was making 3.6 billion. That's 7.2x revenue.
Using this method, the ranking looks quite different.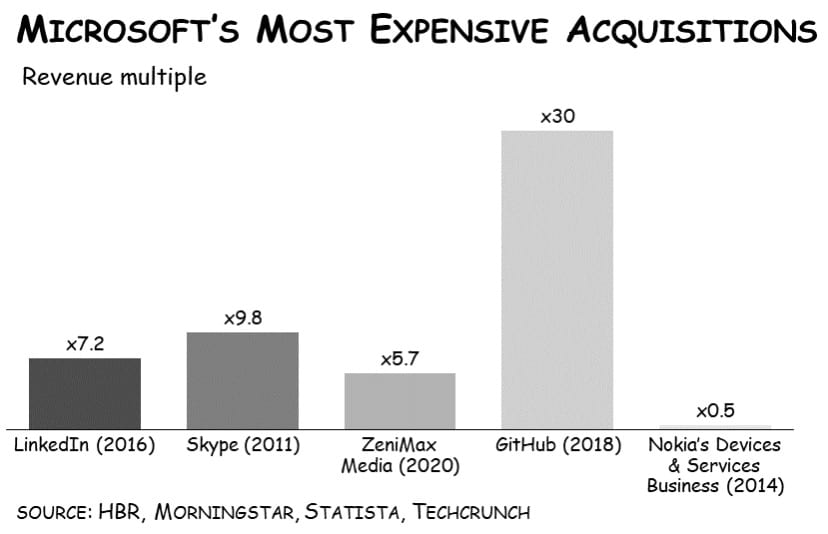 What's this outlier called GitHub? Those who are software nerds know it well. It's a code-sharing website. Think of it as a social networking site for programmers. GitHub's open-source approach has made it the Library of Alexandria for code examples.
Software programmers from Netflix, Google, Amazon and Apple, all use GitHub. You are likely to find everything you need to build new software there.
Microsoft didn't buy GitHub for the immediate financial payback, obviously. It would be too expensive to justify such reasoning. Instead, the company paid to gain access to the legions of developers who use GitHub's code repository products on a daily basis.
Imagine this: You can monitor what is being posted, who is downloading what, and what software coding is "trending." This real-time data can then guide what your research lab should focus on. You don't need to fly blind when innovating anymore.
This strategy is the one Microsoft used, and it's more common than you think.
When Netflix decides what original shows it'll make, it does so by looking at what's trending on its platform in real time. That's also how Costco and Walmart decide what products to launch under their own private labels. They look at what items P&G and Unilever are selling well through their stores. Such is a "frenemy" strategy, in which you are friends and enemies with other companies at the same time.
The only difference is Microsoft saw the importance of this thinking so clearly. It was willing to pay top price for GitHub, and won. That's how smart Microsoft has become when making deals.
Stay healthy,

P.S. It was reported last week that Nvidia is trying to purchase ARM, although the deal is likely to get blocked. What have been some of the mergers and acquisitions that have captured your imagination—recent or historic? What's the outcome? Join the discussion below. Share your thoughts with us.
This article has been co-authored with Angelo Boutalikakis and Iulia Calota, researchers at the Center Of Future Readiness.