CEOs are out on a personal crusade. That's when you know the future of their companies is at stake. For months, Facebook has been building a lawsuit against Apple over its App Store policies. But the dispute between Tim Cook and Mark Zuckerberg is reaching a boiling point. And it's no exaggeration to say that the fight will also determine the future of our internet.
Zuckerberg blasted Apple last Wednesday for its new privacy policy. One change resulting from the policy is that the upcoming iOS 14 will ask iPhone users if they want to share their information for ad-tracking purposes. The tracking confirmation looks like this: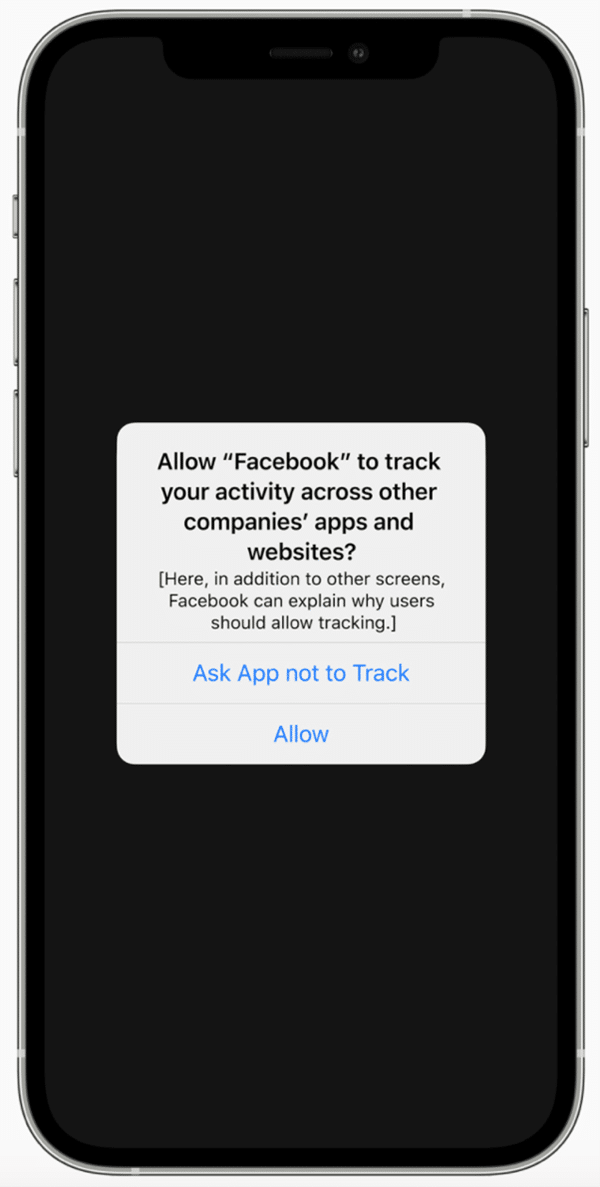 A mockup of the tracking confirmation that Apple included in its company blog
Yes, Apple will ask if you want to let Facebook track your online activities on other websites. Those are your "Off-Facebook" activities. Just in case you thought Facebook hasn't been tracking you enough, you can click here to see what the company already knows about you.
I did my experiment. And to my horror, Facebook's record was almost identical to my browser history in Safari. Facebook has no business knowing all that, was my reaction. Who in their right mind would click the "allow" button from now on? Especially when Apple has cleverly placed acceptance as the second rather than the first choice by default.
So Mark Zuckerberg is angry. The new Apple iOS is bout to cut off one of Facebook's most potent advantages. Without tracking, you can't send targeted ads. Less effective ads mean less money spent by advertisers on Facebook. This will ultimately hurt the corporate bottom line.
In a display of twisted logic that only people inside Facebook headquarters would understand, Zuckerberg said, "This impacts the growth of millions of businesses around the world… many small businesses will no longer be able to reach their customers with targeted ads." Come on, Mark.
Why Apple Cherishes User Privacy
Of course, Tim Cook is not doing all this entirely out of altruism or moral responsibility. Apple has its own profit motivations too. The blowout quarter has delivered Apple some $100 billion in total sales. In particular, its services revenue has grown by 24% compared to the year before. And its services delivered an outsized profit of 34% to Apple's overall operating margin. Apple needs more growth in this area.
Investors love services that are sold as subscriptions. When customers enter a recurring revenue relationship, the company no longer needs to rely solely on those risky, make-or-break hardware launches to drive growth. Subscription services thus provide more predictable, recurring revenues. Netflix, Spotify, Salesforce, Amazon, and Microsoft have all jumped on the trend and benefit from it.
You can see how hard Apple is pushing in the same direction. Since last fall, Apple One has been made available in over 100 countries. Subscribe to Apple One, and you'll get Apple Music, Apple TV+, Apple Arcade for games, Apple News+, Apple Fitness+, and iCloud storage.
Here is the thing: Consumers who opt for subscriptions usually prefer fewer ads and zero marketing distractions. They see themselves as paying customers who are being served, not as products whose attention is sold to the highest bidder in an ad exchange.
So this is the real quarrel between Tim Cook and Mark Zuckerberg. They are battling for the future design of our internet. Because Apple doesn't run an advertising operation and its more affluent customer base, it is becoming similar to Netflix and Spotify of the world. People expect to pay a premium for excellent content and safe services. Apple Maps doesn't store your location. Apple News doesn't share your reading habits with anyone else. This operating model is a market differentiation for Apple.
It is a stark contrast to YouTube, Android, TikTok, and Facebook. They are all free. But you've got to put up with all the nasty stuff and the data mining.
Can Apple Destroy Facebook?
I am not saying the advertising model is all bad. Google has democratized information search for everyone. No universities can organize knowledge as well as Google. Even Harvard isn't close. We would be at a loss if Gmail or Google Maps were suddenly yanked out tomorrow.
But as tech giants grow bigger, the bad stuff—misinformation, hate speech, privacy invasion—is becoming more consequential. So consequential that Apple can start a countermovement. And Tim Cook is standing on the moral high ground.
"If we accept as normal and unavoidable that everything in our lives can be aggregated and sold, then we lose so much more than data. We lose the freedom to be human," he warned without naming Facebook. Who knows, maybe Apple will gang up with Microsoft to make Bing the default search engine and promise users they will store no search data? You'll pay for a highly secure search engine via, again, the Apple One subscription.
It won't be one side wins all. Google, Facebook, Android, YouTube, and WhatsApp will not disappear. There is a significant segment of the population who simply can't afford Apple's pricing. And that's sad. Because the digital divide will not be based on access itself but access to high-quality information without distraction. This gap simply entrenches inequity further.
The telling sign will be what other tech giants do next. Amazon is making its earnings announcement this week. It's been sitting on the fence by offering Amazon Prime and other subscription services as well as a booming ad business. So what will the Alexa privacy setting look like? CEO Jeff Bezos might need to take a stand sooner than he'd like.
Stay healthy,

P.S. What are your thoughts about the future of our internet? Should it be free for all with the burden of advertisement and disinformation? Are subscription models sustainable for society at large? What's the role of government in all this? Join the discussion below. We'd love to hear from you.