This week we saw Tesla deliver its first Model Y compact crossover. It's the company's second made-in-China vehicle, after the Model 3.
Investors have loved Tesla for a while now. It's worth more than Toyota, Volkswagen, Daimler, and Honda combined, making it the most valuable car company in the world.
But this comparison with other traditional carmakers is also misleading. It misses the fact that the market disproportionately favors companies that make electric vehicles.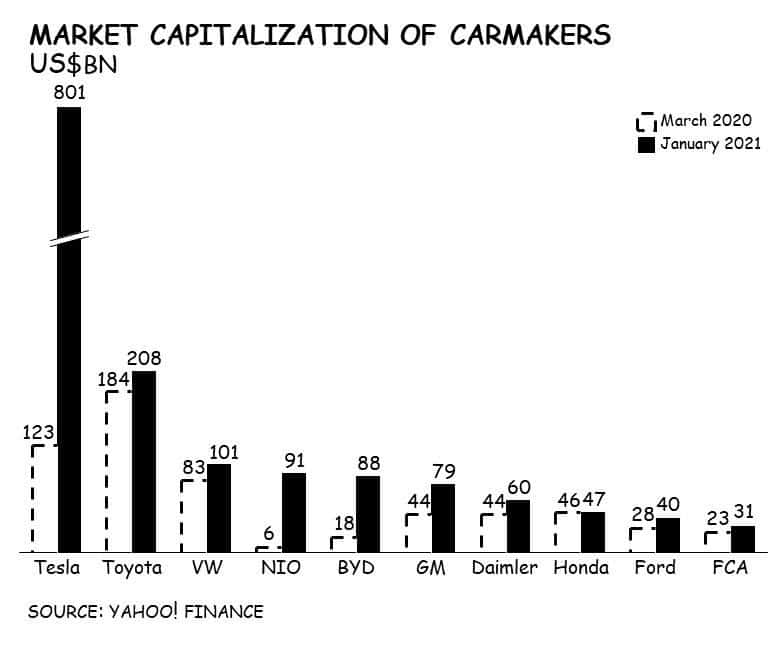 That's right: the world's first, fourth, and fifth most valuable car makers are all "electric first." Tesla, BYD, and NIO didn't begin building internal combustion engines. They started with batteries. And BYD (backed by Warren Buffett) and NIO (listed on the New York Stock Exchange) are both headquartered in China.
So how exactly is China propelling these companies? Consider these figures.
Tesla's Shanghai Gigafactory, which can produce 150,000 Model 3 sedans a year, was completed in

168 working days

. It took two years to build the Tesla Gigafactory in Nevada. To get hold of enough batteries, Tesla has been working with the Chinese supplier CATL.
BYD makes more than passenger cars. It's the world's largest electric bus supplier, holding the #1 position in the US, Latin America and Europe. It's also the world's second largest battery manufacturer, ahead of Japan's Panasonic and behind only Korea's LG.
Electric engines on average may have something

like 20 parts

, whereas the traditional combustion engines may have more than 2,000.
All these means only one thing. China has controlled the supply chain of electric vehicles (EVs).
To build an EV, you don't need the craftsmanship that the German and the Japanese have mastered over decades. It's simpler assembly process like that of a computer and a mobile phone. China has been assembling gadgets for Apple and HP and Dell for years.
The most important component of an EV is batteries, and the leading players are all in Asia. Then you need cheap land to build factories, and more importantly, abundant workers, who stand on the assembly lines. And that's how China is leading the EV revolution.
What's added inside a car today is software. The self-driving algorithm. On that front, Silicon Valley might still have a chance. But time is ticking away fast.
Stay healthy,

This article is co-authored with Angelo Boutalikakis, a research associate at the LEAP Readiness Project.