When industry converges, a gold rush ensues. The gold rush into car-making is in full swing. Last week, General Motors announced it was upping its research and development. It is to spend 35 billion through 2025 on electric and self-driving cars. That represents a 30% increase from its previous announcement. 
And as GM is building capabilities to become future-ready, some short-term investors want it the other way. They are on calling GM to spin off its battery business. The emerging battery unit could be so valuable that it might exceed GM's own market valuation. Spinning off the division means existing shareholders can flip for quick profits. But CEO Mary Barra has rightly resisted. 
"For an electric vehicle, it's all about the battery," Barra said. "Keeping that technology close and leveraging the deep battery expertise we have at General Motors is the way we're going to accelerate that value creation."
This is refreshing. Not because Barra is willing to stand up against the short-term demand, but because she has strategic clarity about where the industry is heading. Tech giants are becoming the lifeblood of car-making. They have the know-how critical to creating autonomous, connected vehicles. They can raise cheap capital. And they are research-intensive.
What Barra is trying to build is a growth story. She is turning GM from an engineering-driven company into an R&D-intensive organization. 
You can't build what you don't know
The global shortage in the semiconductor industry has exposed a knowledge gap among most automakers. Many carmakers lack close relationship with semiconductor suppliers. The world supply of chipsets is produced by only a handful of players — most notably, South Korea's Samsung and Taiwan's TSMC. Just these two players control over 70% of the chipset manufacturing capacity in the world. 
I've argued here before how automotive industry has little bargaining power on this side of the value chain. Their collective volume, when compared to tech giants like Amazon, Google, and Apple, is tiny to the point of irrelevance. As a result, TSMC and Samsung will never devote their limited production capacity to a carmaker.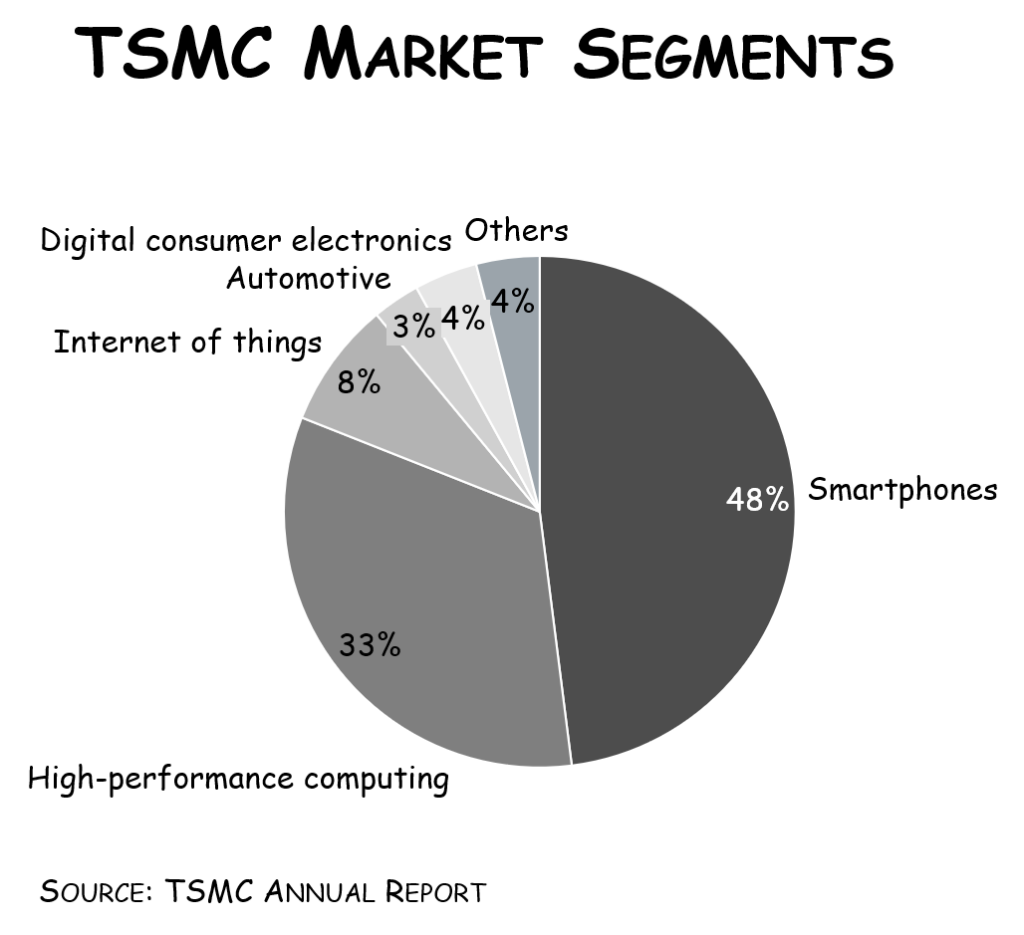 But here lies a deeper issue. Not only do carmakers not have the bargaining power, but they also don't know when to stockpile. That's because they have relied on third parties to do the sourcing. For a long time, carmakers like Daimler, VW and Ford relied on car-parts suppliers to procure their electronic components. This would still be an efficient system if semiconductors were peripheral to the making of a car. 
But that was the history. It's not today's reality. We see in the following graph that electronic components are projected to reach half the cost to produce a car.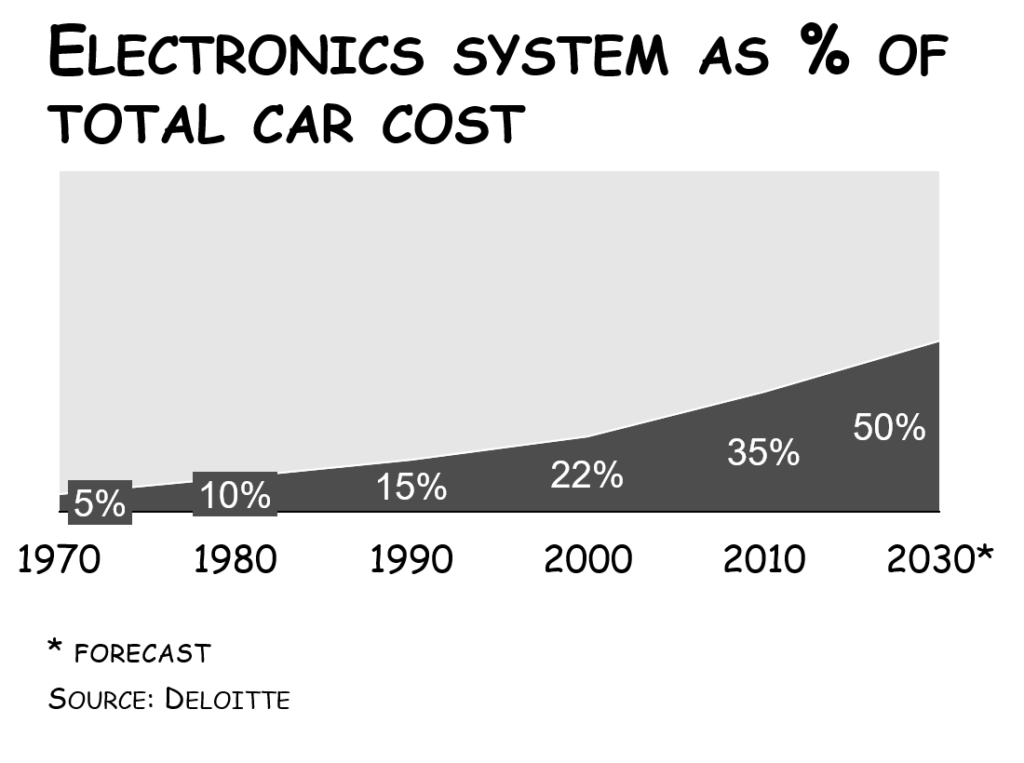 And the issue is not just cost. It's the criticality of these components. The graph below shows the percentage of car recalls due to electronic failure.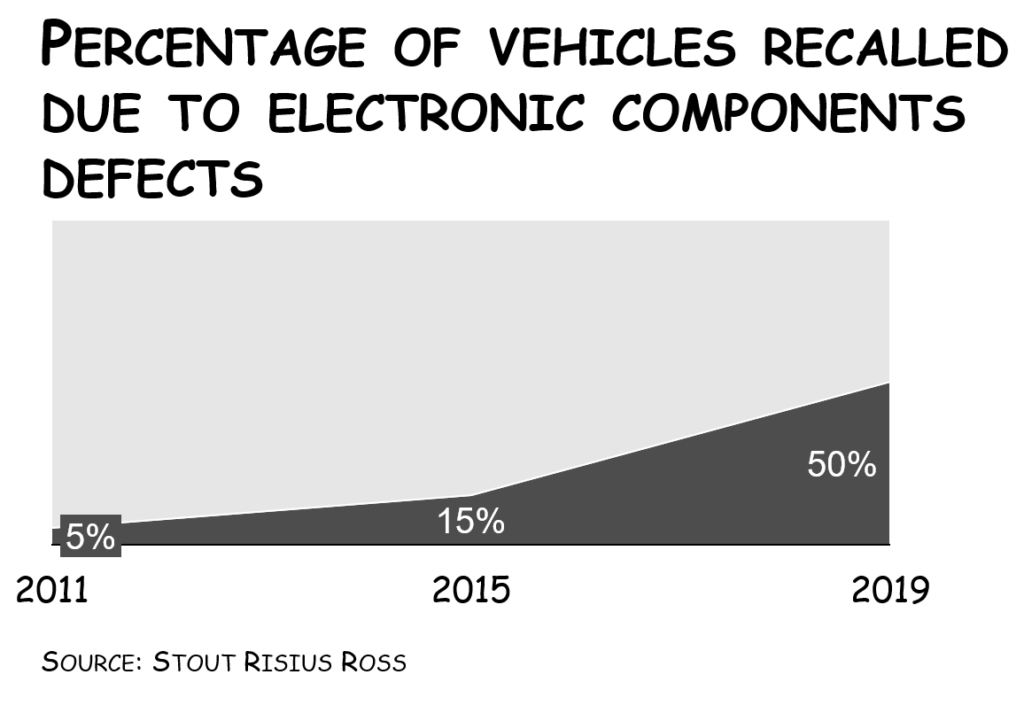 The implication is this: Cars today are already computers on wheels. To build the smart cars of tomorrow, you need to master both mechanical and electronics knowledge, and increasingly, software in autonomous driving. When you combine electric motors with artificial intelligence, it results in new type of complexity. It's the sort of complexity traditional carmakers have never been confronted with before.
The question is, if carmakers don't even purchase chipsets themselves, how are they ever going to master the new knowledge? Can you imagine Apple relying on third parties to procure the chipsets for its smartphones? It doesn't. Apple designs its own chipsets and then orders directly at TSMC. There's a lot for traditional carmakers to learn. Which brings us to the second point, about budgets. 
Learning is not free
No one has figured out how to build a fully self-driving electric vehicle. Not yet. Even Tesla's autopilot is not without accidents. Autonomous vehicles will require engineering prowess, research intensity, and a big budget. The biggest spender in research is VW. It reportedly spending some $13.2 billion throughout 2020. But here's the catch. VW is not R&D-intensive. In terms of spending-to-revenue ratio, R&D is only 5.6 percent of VW's annual revenue. And that's already the highest ratio among carmakers. 
The trouble is carmakers are also competing against tech giants in research activities. Any knowledge-intensive industry spends big. Intel, for instance, spends 21.9 percent of its turnover on research and development. Pharmaceutics companies Roche and Pfizer log a 19.9-percent and 15.7-percent ratio, respectively.
The problem is not the short-termism among existing shareholders of car companies. The problem is shareholders don't believe that the existing management team of a car company can effectively use their R&D budget. They see any raise in R&D budget as a money pit. The money spent will not translate into hot products that consumers crave. 
And so we need a way to turn the tide. To build momentum, you can't just focus on the bottom line. Things will always be incremental. Start measuring and showing early indicators. That's why Microsoft distinguishes two types of indicators. There are lagging indicators, like financial performance. Then there are leading indicators, like customer love. They are indicators of future success. Leading indicators are what drive growth. Without growth, you can't transform a company.  
Thanks for reading—and be well.
PS. Have you seen an organization turn on its innovation engine and ignite its high-growth trajectory? Share your observations and experience with us. We'd love to hear from you. 
This article has been co-authored with Angelo Boutalikakis, a Research Associate at IMD's Center For Future Readiness